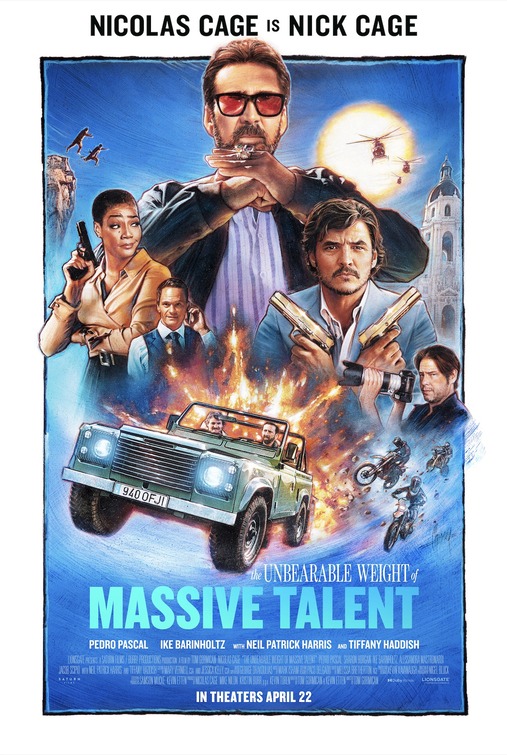 When I went to New Orleans for my one and only (so far) visit, I did all of the touristy stuff. I ate brunch on a riverboat cruise, saw a jazz concert at Preservation Hall and bought some beignets at Café du Monde. (Here's a pro tip provided by a local: close the bag of beignets and shake it a few times to evenly cover the beignets with that tasty powdered sugar that otherwise almost immediately collects at the bottom of the bag.) I also decided to visit St. Louis Cemetery No. 1, the oldest cemetery in New Orleans, which features both the real final resting place of voodoo priestess Marie Laveau and fake graves known as "faux Laveau." I didn't expect to see a modern pyramid of white stone in the middle of this graveyard, and the tour guide explained that Nicolas Cage bought a plot and built this pyramid for his final resting place. Of course he did. That's just so… Nicolas Cage. I enjoy Cage's work from the serious to the bonkers, so I had great hopes for a new flick in which he takes on the ultimate acting challenge — playing a version of himself. Unfortunately, the ladies who leave lipstick kiss marks on Cage's grave won't likely bestow the same love on this mishmash of a movie. The Unbearable Weight of Massive Talent suffocates amid the challenge of its central stunt casting and doesn't approach the level of crazy that you expect until too late.
Cowriter/director Tom Gormican (writer/director of That Awkward Moment) and cowriter Kevin Etten previously worked together on the TV show Ghosted. I don't know the origin of this concept, but I applaud the pair for getting Cage to go along with it. Nick Cage (Cage) lives in an expensive hotel, and his ex-wife Olivia (Sharon Horgan) and daughter Addy (Lily Sheen) can't stand his nonsense and self-absorption. After losing a promising role due to overdoing it at a lunch with the director, Nick decides to make an easy million by going to a birthday party for wealthy super fan Javi Gutierrez (Pedro Pascal) in Mallorca, Spain. What should have been a fun weekend in a gorgeous location turns into anything but as CIA agents (Tiffany Haddish and Ike Barinholtz) recruit Nick into spying on Javi, who is a purported arms dealer. Nick and Javi develop a bond even as Nick investigates Javi behind his back.
Despite some other prominent cast members like Neil Patrick Harris as Nick's agent, the film revolves around Cage and Pascal. I've probably seen most of Cage's movies. Although this outing doesn't rise to the level of last year's excellent, underappreciated Pig, Cage's work here lands somewhere in the middle of the sweet spot of his acting abilities. Cage is clearly in on the joke, and he riffs on himself as he has fun with it. Some digital magic either ruins or enhances a few scenes depending on your reaction; I merely found this distracting and unnecessary. As the other side of the characters' relationship, Pascal entertains more here than the last time I saw him in Wonder Woman 1984. Of course, there's this little project called The Mandalorian in between. Who knows why Javi became fixated on Nick. Nonetheless, a sort of awkward nerdiness imbues Javi, and Pascal delivers this aspect well. When the connection between main characters works, the direction should be buddy comedy instead of spy thriller unless you fully embrace the latter and infuse it heavily with the former. That may have been the plan, yet a road trip or misadventures would have fit these characters and actors better.
Those familiar with the oeuvre of Nicolas Cage will appreciate the many references, visuals and quoted lines. One of my favorite movie lines is "put the bunny back in the box" from Con Air. Javi knows all of these kinds of things, and you are right there with him as if you had the real Cage around for a weekend. Kudos to Gormican for obtaining approval to show clips from Cage's scenes in films like Con Air and Guarding Tess instead of just quoting them. Without some hints at why Javi ranks as such a huge fan, the story would have lost some of its believability. Hell, Captain Corelli's Mandolin even gets a mention. Javi and Nick don't just know Cage's work; they share a love for all movies, including one classic that's a favorite for both and another that spawns a running joke that pays off. Javi's obsession with Cage results in a collection of memorabilia that borders on the absurd as hinted at in the trailer. You go to this movie for the ultimate celebration of Cage, and I was disappointed that more time wasn't spent with this collection or, say, Javi and Nick (in disguise) go off to a theater for a Nicolas Cage film festival. To paraphrase Robert Downey Jr. in Tropic Thunder, never go full Cage, but a little more would have been nice.
The script toys around with the meta aspects of the whole thing. Indeed, this nature probably attracted you to see it. Nothing will ever surpass the creative embrace of an actor as Being John Malkovich. Javi comes as close as possible to jumping through Cage's portal if there were one to see things through his eyes for a few days. The final act provides the manic energy that I wanted all along, and a nice Hollywood twist is the cherry on top. Had the movie started in that same spirit, this would be a much more favorable review instead of a mere suggestion to check out this flick at some point if you like Cage. Javi writes a script with a starring role for Nick. If the filmmakers had jumped into the development of that script as in Adaptation., ironically another Cage movie in which he plays two roles, they could have reached another meta level of self-reference.
A surprising number of F-bombs, including from Sheen, seems a bit lazy. Curses work better when punctuating the humor instead of trying to cause it. One scene completely fails as Nick and Javi try to scale a wall. The punch line reveals that the initial setup was presented falsely by Gormican, so I had trouble seeing the point. With so many ways to go with the premise, the filmmakers only half-succeed. More jokes would have kept it as a comedy, while more action would have leaned it toward action film. Instead, you get a little bit of it all, and Cage and his massive talent deserve something as special as his massive New Orleans tomb.