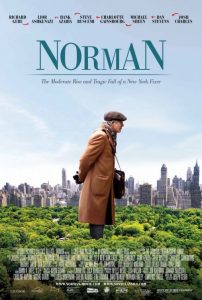 A small-time New York businessman befriends a future Israeli Prime Minister in Norman.
Writer/director Joseph Cedar's latest film is every bit as memorable as his previous works. You don't know his five other films? Exactly my point. This is a flaccid, mediocre bore of a movie. By the time you reach the theater lobby, you'll be hard-pressed to recall having even seen it.
Richard Gere plays Norman Oppenheimer, a supposed New York dealmaker whose entire background we learn virtually nothing about throughout the film's laborious two-hour running time. Lacking any obvious skills and possessing a personality that would tempt a wall into relocating, Oppenheimer somehow manages to loosely befriend a low-level politician named Micha Eshel (Lior Ashkenazi). Three years later, Eshel becomes Israel's Prime Minister and willingly reconnects with Oppenheimer, a man whom he barely knows. Picture Donald J. Trump having a distant correspondence with Being There's misunderstood Chauncey Gardiner. The only difference is that Trump and Gardiner would deliver a more engaging story.
Gere's portrayal of the aging businessman desperate for any sense of relevance is matched only by Cedar's search for the same.