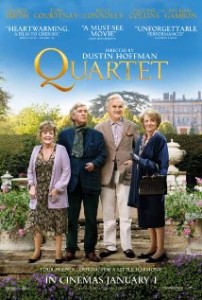 A retirement home for the musically gifted is the setting for a nearly-overlooked film that marks the directorial debut of Dustin Hoffman (at a spry 75) in Quartet. The namesake group is played by Maggie Smith, Tom Courtenay, Billy Connolly and Pauline Collins.
The home is populated by some of the biggest names in musical history and, most notably, retired opera stars. Even so, when the latest tenant is due to arrive the anticipation is heightened when the others notice that the car is being put into service to pick them up—a perk reserved for only the biggest names. In this case its the character played by Smith.
Of course, by this point in life, all of the characters have an intersecting path and that means a lot of potential baggage to sort through. This is where the story sets up for the performance.
Each of the actors does a wonderful job with the material though the role played by Connolly just doesn't work. He plays himself, more or less, which is to say that he's playing my future self. However, no matter how much he tries he looks out of place for nearly the entirety of the film. It's not the acting. It's the chemistry. This is doubly sad as Connolly was a late replacement for Albert Finney who fell ill during filming and was unable to finish. Most of the movie posters still list Finney at the top of the billing and it seems clear he'd have been a much better fit.
Even with that, the film has its moments. If your a fan of classical music the sounds and music will warm your heart and there are a few scenes that will gently touch it as well bringing a tear to the eye. It's just a hint of magic but it's welcome all the same.
Unfortunately there's just not quite enough of that magic to carry this past the main chorus and the final scene ends curtly (though not surprisingly).
The movie includes swath of incredibly talented musicians from the 50's onward along with some nice performances so it's not a complete loss. I just wish there was a bit more to it.