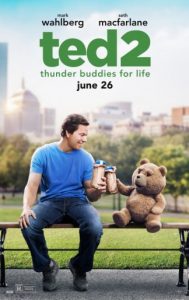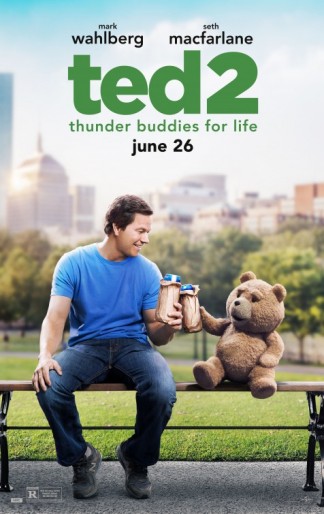 If you read the plots for Ted and Ted 2, you would think that they're completely ridiculous — and they are. A teddy bear named Ted comes to life and hangs out with his best friend, acting and talking like an adult? Yeah, right! For whatever reason, this silliness resonated with me and millions of other movie fans when Ted was released. I couldn't wait for a sequel because it's just hilarious to see Ted riff on pop culture figures and any number of other topics. I can honestly say that Ted 2 had me laughing as much as the original and delivers one outrageous scene after another.
Cowriter/director Seth MacFarlane and cowriters Alec Sulkin and Wellesley Wild collaborated on Family Guy before moving on to movies. I still have no idea how such a witty, snarky, funny writing team could create the awful A Million Ways to Die in the West. Fortunately, they rebounded in a big way — enough to make me forget that faux pas. Everybody slips now and then. Hell, M. Night Shyamalan might yet create another film as good as The Sixth Sense or as tolerable as some of his others, and I'll sing his praises once again. I'm supportive of people when they deliver a winner, so I'm telling everyone to see Ted 2 if this type of comedy is for them.
MacFarlane couldn't have planned the release of Ted 2 any better as it coincided with the Supreme Court's ruling on gay marriage. The plot will resonate with anyone who feels left out or marginalized in any way. Ted (voiced by MacFarlane) marries girlfriend Tami-Lynn (Jessica Barth reprising her role), while at the same time, Ted's friend John (Mark Wahlberg) is divorced and unhappy. When Ted and Tami-Lynn hit a rough patch, Ted proposes that they have a baby, which makes Tami-Lynn ecstatic. Adoption proves to be problematic because the couple is refused consideration based on Ted's origin as a toy. John and Ted convince young lawyer Samantha (Amanda Seyfried) to take their case. The goal is to prove that Ted is a person in the eyes of the law.
Ted 2 has the same rhythm as the first film, and that has everything to do with Wahlberg and MacFarlane. Just like any other friends, John and Ted tease each other, share their sorrows and occasionally argue. I could listen to MacFarlane as Ted all day long, and the official Ted app offers some of that personality when you need a fix. Mila Kunis was not able to return for the sequel, but Seyfried is a welcome addition to the series. She even sings a song, and despite her beautiful voice as the focus, the scene nevertheless turns into a comedic bit. Thanks to MacFarlane, I can never look at Seyfried the same away again, and kudos to her for poking fun at herself. There are plenty of cameos, and one major actor has an important role. They're best discovered in the course of the film, so try not to watch the trailer if you want to experience the full effect of the movie.
The humor ranges from slapstick to gross-out, so be prepared for just about anything. The pace keeps up for just about all of the running time. There were plenty of times when I missed jokes because I was still laughing hard. Ted 2 leans toward the raunchy, but I think that's what is expected from an R-rated comedy about a partying teddy bear. Ted and John like to smoke pot. Bongs, special blends and weed jokes are sprinkled throughout the film. I still don't understand how Ted drinks and smokes; I'll stop being logical now. MacFarlane also causes laughs with just the looks on Ted's face in response to what's going on around him. The top-notch animation makes those reactions possible and believable. Ted 2 is chock-full of pop culture references, many of them sailing right over the head of Samantha to Ted and John's delight.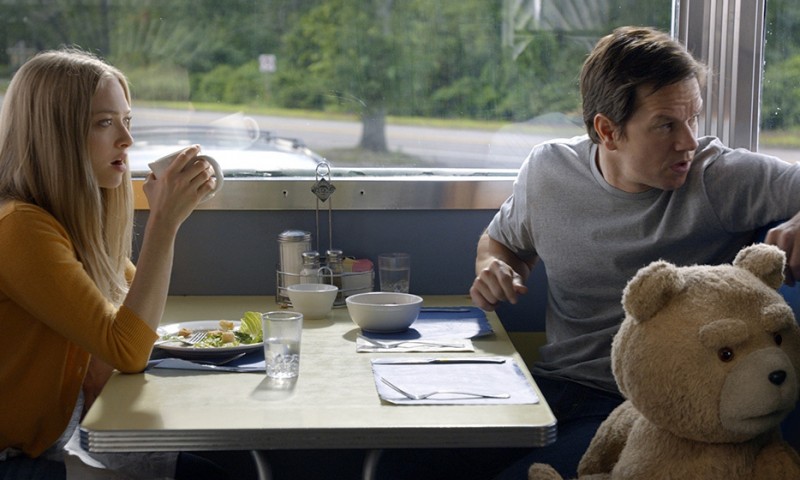 There are some slight missteps and slow spots in Ted 2. An opening dance number over the titles reflects MacFarlane's interest in crooners and big, old-style productions. If you didn't know this, he even released an album in that genre and performed some concerts. Something more fun and less drawn out would have kept the pace instead of making you realize how long the opening sequence really is. A subplot with returning Ted-obsessed character Donny (Giovanni Ribisi) working as a janitor at Hasbro goes nowhere. Donny's interactions with the Hasbro president (John Carroll Lynch) serve as a distraction with their only purpose to set up the finale. There is also an empty hole where it feels like more scenes might have been placed originally. Ted, John and Samantha end up on a farm, and I was waiting for a punch line that never came about the owner of the property. One of the best parts of Ted was that John and Ted — Thunder Buddies for life! — sang a song to keep thunder away. It would have been nice to either reprise that song with new lyrics or, even better, come up with something else that unites them in such a fun, memorable way.
There I go again — overanalyzing a silly movie about a man and his living teddy bear. Maybe I'm just jealous that my childhood teddy bear didn't grow up and come to life to accompany me on life's journeys. Ted 2 made my inner stuffing hurt from laughter, and that's as much a testament to the power of a movie as any. MacFarlane knows exactly how to push all of the right buttons and deliver irreverent comedy, whether it's in a scene at a comedy club or in the midst of the mania that is the New York Comic Con. I could watch a dozen more of these movies. I'd settle for other MacFarlane projects that are this funny and another sequel that is absolutely necessary after Ted 2.