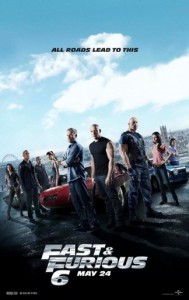 Car chases and other stunts have always been one of the most exciting elements of motion pictures. From the moment that cars were available, filmmakers included them in their plots. This led to memorable scenes in films as varied as The French Connection, Back to the Future and Thelma & Louise. The series that began with The Fast and the Furious has certainly evolved over its six films from a concentration on street racing culture to a more action-oriented story with races and stunts to balance things out. The filmmakers never lost sight of the vehicles that make the series so much fun, but they also never pushed beyond the stunts to make the ultimate car-focused movie. Fast & Furious 6 is the latest entry in the series. It's a rush from start to finish that delivers the goods in a series of action scenes that are almost entirely ruined by the trailer. Avoid it if you haven't already seen it.
Fortunately, the producers have kept the same writing/directing team for the past four movies. Director Justin Lin (also director of Better Luck Tomorrow) and writer Chris Morgan previously joined forces on The Fast and the Furious: Tokyo Drift, Fast & Furious and Fast Five. I just wish they'd get their naming conventions straight for this series because it's clear that there will be more movies. All of the main cast members are back for this one, so the actors' images on the poster are smaller to accommodate all of them. At the heart of the film are stars Vin Diesel as Dominic Toretto and Paul Walker as Brian O'Conner. For those new to the series, there's a nice recap of events during the title sequence. Dominic was a criminal who used fast cars to commit his crimes, and Brian was a cop who went undercover to catch Dominic. Over the course of the films, Dominic turned out to not be so bad, and Dominic and Brian went on the run after pulling off a heist of $100 million.
After an exciting road race between Dominic and Brian down narrow mountain roads in the Canary Islands, federal agent Hobbs (Dwayne Johnson) tracks down Dominic to enlist him to take down a violent, dangerous criminal in London. Owen Shaw (Luke Evans) has assembled a team of drivers from a number of countries, and Hobbs entices Dominic to help him by showing him a picture of former girlfriend Letty Ortiz (Michelle Rodriguez), supposedly killed off in one of the previous films and now pulling heists with Owen. Dominic explains to current girlfriend Elena (Elsa Pataky) that he needs to find out what happened to Letty, and he assembles his crew from all over the world like a strange version of The Avengers. This group includes Roman Pearce (Tyrese Gibson), Tej Parker (Chris "Ludacris" Bridges), Han (Sung Kang) and Gisele (Gal Gadot). Series regular Jordana Brewster returns as Mia Toretto, Dominic's sister and Brian's girlfriend, in a limited capacity, and Gina Carano of Haywire joins Hobbs as assistant agent Riley. The dynamic of the team is nice because the team members mesh after their many adventures. Roman and Tej provide the comic relief. At one point, Tej sets his phone to identify Hobbs as "Samoan Thor."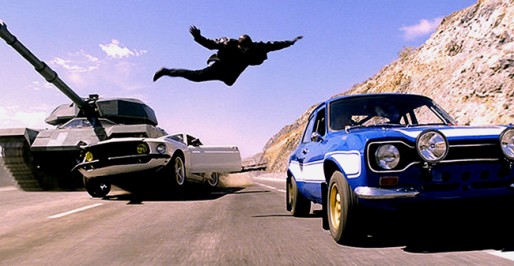 The plot is a basic structure on which to hang all of the car stunts. Long gone are the street racing elements of the series except in the toy cars bought for a character by Dominic and Brian. Instead, the stunts are more outrageous, silly and completely against the laws of physics than ever before. I liked them anyway. Modern cars can't hit a bump in the road without major damage, so it's hilarious to see what the cars in this movie go through. The joy of this series is watching the car action in awe for the first time, so I won't spoil any of the sequences. I'll simply say that some of them involve a tank, and an elaborate sequence involves a cargo plane in a 15-minute scene that must have taken place on the world's longest runway. There are also a lot of fights between characters. Johnson has his fair share of brawls even with some guys somehow bigger than him, and there are two notable catfights between Rodriguez and Carano that happen in a subway and on the aforementioned plane. Fast & Furious 6 is the ultimate film for stunt people, and their work shines through all of the action sequences.
I don't know how an entry in this series can impress me any more than they already do. I thoroughly enjoy the films, and Fast & Furious 6 is probably the best for stunts, fights and plot and the weakest for street racing and car enthusiasm. Will there be a next film? I'm pretty sure of it, and I look forward to it because of the teaser they give in a post-credits scene. I won't ruin it for you because I'm not into spoiling films, but it's definitely worth staying around to see what's going to happen next. Until then, buckle up, suspend disbelief and enjoy Fast & Furious 6.