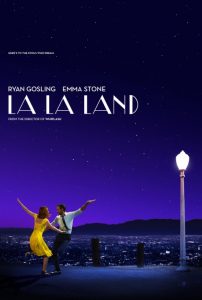 An aspiring actress and an ambitious musician share an unlikely love affair in La La Land.
Mia (Emma Stone) and Sebastian (Ryan Gosling) are two Los Angeles strangers with a date etched onto Cupid's calendar. She spends her days running between countless auditions and making ends meet working at a Hollywood studio coffee shop. He's obsessed with jazz in every facet of his life, and he plans to run his own club one day. For now, he'll have to make do as the pianist at a quiet restaurant where they don't play jazz. As far as Sebastian's concerned, it's just another opportunity to convince them all of the magic they're missing out on.
It's not like the lives of a pianist and part-time barista share much in common, but no matter where they find themselves, the other is inevitably there. Cupid's never been one to let proximity in location or life stand in the way. It's a star-crossed relationship that will have to endure over their own lifelong dreams, and that's a compromise that neither appears ready to make.
Director Damien Chazelle is clearly a jazz junkie. His first film, 2010's Guy and Madeline on a Park Bench, is about a jazz trumpeter. He broke through with his sophomore effort Whiplash. That 2014 masterpiece focuses on the challenges of a young jazz drummer. This time around, the male lead is a jazz pianist. Perhaps his next film will woo us with the travails of a struggling young jazz cellist?
For all its hype, Chazelle's latest film is a far cry from the polished gem of his previous effort. On the plus side, Gosling and Stone fit one another like well-worn gloves. They've had a lot of practice because it's the third time that they've been paired as on-screen lovers. The über-talented John Legend shows up, and his marvelous singing performance is the least memorable thing about his remarkable role.
Yes, the leads are beautiful. Yes, the camera work is exceptional. Yes, there's some great music. Yes, the choreography is the best in recent memory. That's all well and good, but there's also the inescapable fact that everything in this film feels incomplete. It's a comedy without any laughs, a drama with little tension, a musical with less than a handful of (mostly forgettable) songs and a romance that isn't all that romantic. It's the kind of film where the story shouldn't matter (think Mamma Mia!), but it drags along while still somehow managing to never say all that much. This feels like a trip to a renowned ice cream parlor where you're told that they're out of everything but vanilla. Sure, it's the best vanilla in town, but I really had my heart set on pistachio.