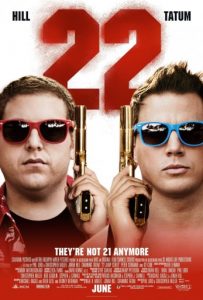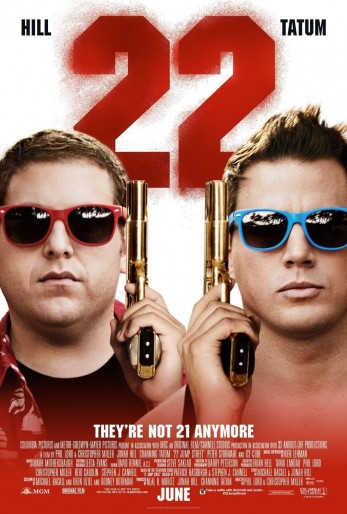 Buddy cop movies work best when there's just as much humor or more as there is investigation into some crime. If you think back through the entries in some of the best franchises in this genre like Beverly Hills Cop, Rush Hour, Lethal Weapon and even The Heat, you also realize that one of the duo is usually wacky, silly or out of control and the other plays it straight. 22 Jump Street picks up exactly where 21 Jump Street ends and pretty much provides more of the same. In fact, there's a running joke that this new case in a new setting is exactly the same situation as the first film and that the lead characters should handle it that way. There's nothing wrong with repeating a formula as long as there's something new to add to the familiar. 22 Jump Street does exactly that effectively as it switches things from high school to college and consistently provides the laughs.
The return of directors Phil Lord and Christopher Miller (directors of Cloudy with a Chance of Meatballs and 21 Jump Street and writers/directors of The LEGO Movie) and cowriter Michael Bacall (cowriter of Scott Pilgrim vs. the World and writer of 21 Jump Street) certainly makes the films feel like they're brothers in kind. Cowriters Rodney Rothman (cowriter of Grudge Match) and Oren Uziel round out the writing crew. In this sequel, more writers don't dilute the product as is so often the case. Morton Schmidt (Jonah Hill) and Greg Jenko (Channing Tatum) are two rookie police officers in Metropolitan City who somehow managed to make things right on their last case. Reduced to monitoring coded messages online, they cause a lot of destruction in an opening segment that involves a deal gone bad with The Ghost (Peter Stormare chewing up the scenery) and chief henchman Scarface (Eddie J. Fernandez), who does actually look like a Mexican version of Wolverine as joked about in the trailer. Deputy Chief Hardy (a returning Nick Offerman in a few scenes) gets rid of these troublemakers by reassigning them back to Captain Dickson (Ice Cube) in the titular address that houses an undercover operation across the street from their previous gig.
Dickson sends Schmidt and Jenko to MC State to investigate the death of a college student that may have something to do with a new synthetic drug called WHYPHY (Work Hard? Yes, Play Hard? Yes). They even keep the same fake identities from their first job — Schmidt as Doug McQuaid and Jenko as his brother Brad McQuaid — and split up based on different interests. Schmidt hangs out with the artsy crowd and starts dating Maya (the beautiful and bubbly Amber Stevens), and Jenko joins a frat and the football team while developing a close bond with Zook (Wyatt Russell, son of Kurt Russell and Goldie Hawn) and Rooster (Jimmy Tatro). The investigation's path gives both characters time to shine, and things all come to a head in Puerto, Mexico, for spring break. Jillian Bell absolutely owns every one of her scenes as Maya's acerbic roommate Mercedes, who immediately sees through Schmidt's façade and peppers him with a lot of age-related jokes about him being such an old man. This is a breakthrough performance for Bell, a former Saturday Night Live writer, and I liken it to the effect of Melissa McCarthy's work in Bridesmaids.
The plot in a buddy cop movie is really just a framework for the humor and crazy scenes. 22 Jump Street delivers from start to finish. Hill and Tatum somehow work as a comedy team despite all logic. Schmidt's sarcastic personality is perfect against Jenko's dimwitted cop. Certain scenes like Schmidt's entry in a poetry slam contest and Jenko's reaction to Dickson's anger will keep you in stitches. Ice Cube is just one of those actors who can deliver a two-word line and make it funny. It's a combination of his attitude, delivery and the pained or angry faces that he makes. The humor returns often to the bromance between Schmidt and Jenko as well as the burgeoning one between Jenko and Zook. The film gets a boost because it mixes different approaches to comedy like slapstick humor, pratfalls, jokes, over-the-top situations/characters and even turning action scenes into laughs. Dave Franco and Rob Riggle reprise their roles from the first film, and I would argue that there wasn't enough of these actors, especially given Riggle's character's transformation after his first run-in with Schmidt and Jenko.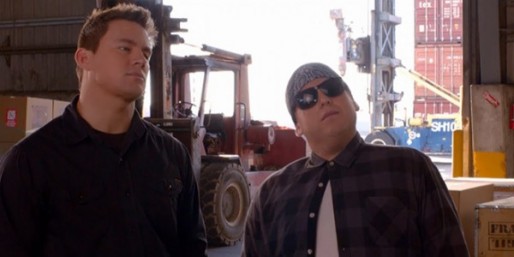 In a film so full of obvious humor, the filmmakers get extra credit for their subtleties, self-reverential comments and visual puns. Take note of the background characters in Schmidt's morning walks home after nights with Maya, or catch the building name in a chase scene in a giant helmet. A tattoo is a key clue to the identity of the campus drug dealer, so the description of another tattoo is a welcome bit of cleverness. There are even some in-jokes related to actors' other work; pay attention to the dialogue, and you'll see what I mean. This kind of writing is not necessary in such a broad comedy, but it takes it to another level and makes me want more from these filmmakers and characters.
21 Jump Street had one of the best cameos that I've seen in years, so it's hard to top that kind of surprise. There are plenty of cameos throughout 22 Jump Street to try to match the impact of that previous one, and I enjoyed seeing the actors that pop up. This is one of those movies that demands that you stay through the credits. A montage delivers one laugh after another in a sequence that matches the manic energy of many of the other scenes in the main part of the film. After previous disappointments like A Million Ways to Die in the West, 22 Jump Street put me in a better mood for the hilarious summer comedies that are sure to come.