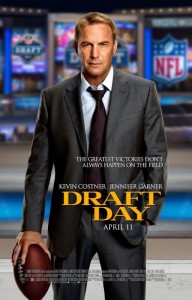 A veteran general manager, under intense pressure to deliver, prepares to build the team's future in Draft Day.
One of the biggest events in professional sports is draft day in the National Football League (NFL). It literally redefines every team in the league. Over the last few decades, the NFL has built the event into a major media spectacle watched by more than 20 million viewers. The stakes for all involved couldn't be higher. Any mistake at this level can be catastrophic for the future of the franchise. It's no wonder that NFL general managers stress out on this day more than any other.
At the center of this maelstrom is Sonny Weaver (Kevin Costner), general manager of the perennially lackluster Cleveland Browns. The team's owner (Frank Langella) has made it clear that it's time for the franchise to make a big splash. If he does anything short of that, Weaver will be shown the door. Sonny can trade up to the top spot, but the cost means mortgaging the long-term future of the team, which doesn't sit well with his new high-profile coach (Denis Leary). Damned if you do, damned if you don't.
This visually bright, energy-packed look inside the NFL draft is, without question, an unabashed 109-minute commercial for the league. There's little doubt that the NFL had a direct hand in producing the film. That starts with the use of real teams, real locations and an endless cadre of well-known NFL luminaries, past and present. Some legendary stories from the league's celebrated past are given prime front-row seats.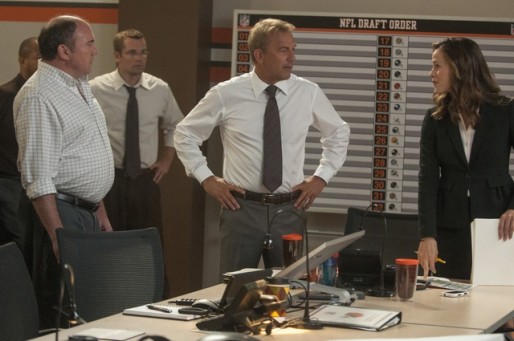 Starting just 12 hours before the draft, we follow Sonny as he wrestles with the implications of every possible option and the stresses that come with each of them. Interested players call to make their last-minute cases. The other GMs check in throughout the day to make their own pitches. His own staff ramps up the tension with their own conflicting priorities. If that weren't enough, he's also romantically involved with his director of player personnel (Jennifer Garner).
Yes, we know it's a setup. Yes, we know it's all going to magically work out in the end, yet the film still manages to keep us all entertained throughout. Costner and crew gel with a cohesiveness that makes it all plausible.
There are some rough patches. The story is rife with obvious foreshadowing, a few annoyingly obvious choices that drag out too long and one entirely unbelievable character. It's also clearly best when it sticks to football. The relationship subplot with Garner and a well-meaning but poorly-executed story involving Sonny's mother (Ellen Burstyn) end up as unnecessary distractions.
It's surprisingly funny and curiously uplifting, but perhaps its biggest trick is that, by the end, you'll feel compelled to root for the Browns.