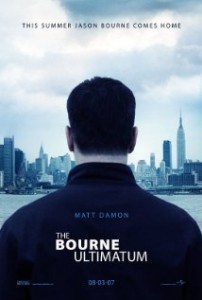 Next up we saw The Bourne Ultimatum, which is the best three-peat movie of the year. I didn't find it as good as the first movie but quite a bit better than the second one. It's a wonderfully fun rollercoaster ride.
Action movies will have a hard time beating this for sheer edge-of-the-seat fun. The story has some major issues with respect to believability but hey, it's not a drama so I'll skip those.
Matt Damon is Jason Bourne and I'm the last guy who would have thought he'd be able to see adeptly move into the action star role. Just look at his earlier work and you'll see a thin, gaunt (but talented) actor. What a great transition.
It was interesting to see Julia Stiles return and it appears as if the writers were attempting to work her in as a new love interest. Unfortunately I thought 90% of her time on screen just didn't work. I think I'd like her as a friend or neighbor but I've yet to like her in any film I've seen that she's done. This, in fact, was as close to liking her onscreen as I got and you can see that didn't go very far.