With the Oscars now looming, we offer up our lists of the best and worst films of 2016.
For a complete list of our 2016 films, please check out the Movie Review Compendium for 2016.
Rich:
This past year was nearly a complete disaster. We didn't see a seriously great film until November. The longest that I'd gone before in awaiting a great film was August in 2015. I didn't think that record could be broken, let alone for it to happen in the very next year and emphatically so. Some of the better films that I saw appeared at film festivals, and those films still haven't found distribution here in the United States. There were still some high points before the spell was broken. Hidden Figures is one of the very best of the year and just missed my top five. Mel Gibson made a quiet but impressive return with Hacksaw Ridge. While everyone else talked about Amy Adams in Arrival, I was far more impressed with her work in Nocturnal Animals, both of which were somehow in theaters at the same time. I was captivated by the uniqueness and splendor of the quirky Captain Fantastic. I loved the complete surprise and awesome ride known as Deadpool. Beyond all of it, what I'll remember most about 2016 is that it was the year that the awards shows went gaga over a number of films that I found severely lacking. The biggest of those include critical favorites La La Land and Manchester by the Sea. They're not terrible, but they just don't provide the same entertainment value as any of the films in my "Best of 2016" list. I can only hope that 2017 improves over both of the last two years.
Russ:
I didn't see nearly as many movies as I should have this year. I probably see more movies than most people,  but I'm nowhere near my regular yearly diet of 150 – 200 films. It's only February, so I hope to increase my count as the year goes on. I missed movies that would almost certainly be on my best list like Nocturnal Animals, Hidden Figures and Manchester by the Sea. It's common to see lots of sequels and horror flicks — and even sequels to horror flicks! — in theaters each year, and 2016 did not disappoint. Alice Through the Looking Glass and Star Trek Beyond impressed me, while The Conjuring 2, Bad Santa 2, My Big Fat Greek Wedding 2, The Huntsman: Winter's War and Independence Day: Resurgence varied in quality. There were loads of fantasy, sci-fi and superhero films. Alongside watchable entries like Warcraft and X-Men: Apocalypse were impressive experiences in Doctor Strange, Fantastic Beasts and Where to Find Them and Rogue One: A Star Wars Story, all three of which would be contenders in my "Best of 2016" list if it included more than five spots. Rich mentioned Deadpool already, and I want to reiterate its uniqueness. Its sequel is highly anticipated. Ghostbusters was a good remake that didn't deserve any of its harsh attacks. Suicide Squad and Batman v Superman: Dawn of Justice were much better than the press or word of mouth made them out to be, and I was a lone champion for the latter. On the flip side, I wasn't gushing over Kubo and the Two Strings and Toni Erdmann like everyone else. Every year delivers at least one movie that makes your jaw drop. When I saw the trailer for Sausage Party, I thought that it had to be a fake film. Nope. It was one of the most bizarre concepts ever, and it had me in tears with its R-rated humor.
Let's get to it. Here are our best and worst films of the year.
Rich:
My five best films (in alphabetical order):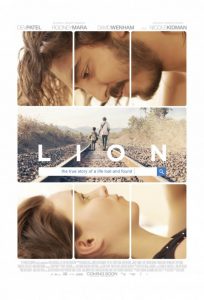 The five films above showed up in an end-of-year flurry that made for a wonderful holiday film season and helped to keep the year from being a total shutout. I fell in love with Rolf Lassgård's portrayal of a curmudgeonly senior named Ove. I found a quick way to lose a lot of weight (at least water weight) while watching a tree torment and challenge a child. I watched Dev Patel emerge as an unlikely sex symbol. I sat on the edge of my seat watching an animated Disney film that features two incredible characters who never utter a word, and finally, I needed Dramamine to help with the whiplash of deviousness involved in the best sting story since The Sting.
Each of these films is within a whisker of each other, but the one that I want to share most with anyone willing to watch is Lion. It's effectively two amazing films for the price of one. It's also a story that sneaks its way into your heart and moves in for the duration. The acting is superb with surprise performances from Rooney Mara and Nicole Kidman. Patel's performance is great as well, but none of them can hold a candle to young Sunny Pawar (playing the younger version of Patel's character). When the stress of a day starts to take hold, I think of his character's resilience, and I feel instantly better.
Russ:
My five best films (in alphabetical order):
A Man Called Ove
Finding Dory
Lion
The Secret Life of Pets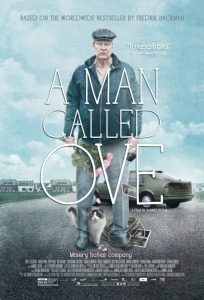 For me, the best movies of 2016 made me feel something, whether I was like a kid again or just connected to the world or humanity somehow. A Man Called Ove completely caught me off guard. Captain America: Civil War featured the best battle scene of the year and all of the humor and superhero fun that you would expect. It might say something about me that two animated films are in my top five. Sorry, La La Land, but Finding Dory and The Secret Life of Pets left huge smiles on my face when they were over — a feat that you could not pull off. You often hear about the resilience of the human spirit. That is on display in spades in Lion, a movie that will make you appreciate your life and journey that much more.
It was no question that A Man Called Ove would be my favorite, and I compared each great film against it over the course of the year in case there was something better. I couldn't find any movie that mixed comedy, pathos and emotion so well and dealt with universal ideas of family, nationality, aging and love that touch us all. There's a curmudgeon in each of us, and there are probably one or two in our neighborhoods. Seek them out; they might have an amazing story inside just waiting to get out. If the main character and story weren't enough to warm your heart, there's an amazing Titanic-like moment that takes your breath away. Sigh.
Each year, we see hundreds of films. Unlike most filmgoers, most of the films that we see are required viewing. The end result is that most of the films we see tend toward the lower end of the quality scale. That usually leaves a large pile of junk at the bottom to sift through that leaves us with the worst films of the year.
Rich:
Much to my complete surprise, while 2016 had a limited number of great films, it also somehow managed to avoid the usual 80-car pileup of bad films. I had to actually reach to fill out this list for the first time since I began compiling it. Without further ado, here's the worst list to date:
I Saw the Light
Knight of Cups
Miles Ahead
Now You See Me 2
The Witch
That's one bad list of films, but not nearly as bad as previous years. There's also one strange coincidence in the list. Three of the films on it were screened for us on three consecutive days. That was easily the worst week of watching films that I've ever experienced. However, there is one that I wouldn't force my worst enemy to endure. I think waterboarding might be less stressful than having to endure Knight of Cups a second time. I knew that this film would be the worst of the worst literally just 20 minutes in. It's a film that made me want to demand a refund from director Terrence Malick, and I don't pay to see films. That anyone sat through this and found it entertaining is simply astounding to me. That Christian Bale read the script and said, "Yeah, count me in," is even more incredible. If someone gives it to you as a gift, spit on them. They clearly don't like you.
Russ:
It's easy to tell when I dislike a movie if you sit near me in a theater. (Rich knows.) You might hear me grumble, sigh or maybe even snort as I snap awake after falling asleep. The best and worst each year are easy to identify against the rest. Thinking about the worst films can cause visceral reactions as if you're remembering that terrible time in a dentist's chair. Here's my worst list:
Arrival
Don't Think Twice
Inferno
Now You See Me 2
The Girl on the Train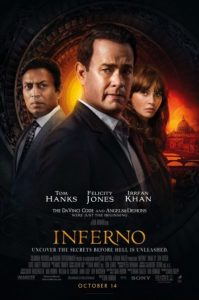 Each of these losers insulted me in some way, and that's not the way to win over a critic. Arrival had all of the markings of the alien invasion genre. Instead, it degenerated into a boring mess that tested my eyelids with long periods of what sounded like whale song despite Amy Adams's impressive performance. Don't Think Twice is a dissection of an improv comedy troupe that just isn't funny.  Now You See Me 2 managed to double down on all of the elements that I didn't like in the first film. The Girl on the Train aimed to be 2016's version of Gone Girl and instead just made me wish that this girl was gone in a train wreck. Nothing can top the awful Inferno. It felt like descending into Dante's levels of Hell as you watched Tom Hanks in probably his worst performance. This is another Dan Brown adaptation that shouldn't have been made. It's better to just read his books and leave the flames of an inferno for the pile of discs that contain this movie.