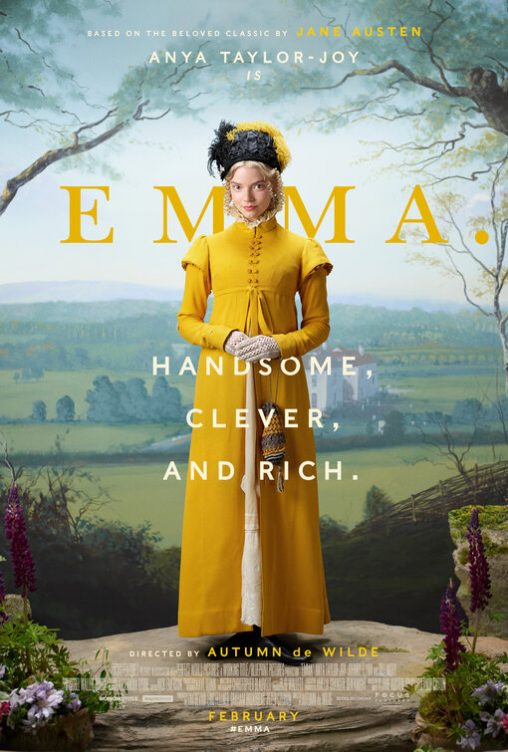 Jane Austen fans yearn for adaptations of their beloved writer's novels. The filmed versions of Emma succeed or fail based on the lead actress in the titular role. New productions pop up every few years, and they all try to establish their own identities regardless of the familiarity of the story. Gwyneth Paltrow took a shot at the role in 1996, as did Romola Garai and Kate Beckinsale in TV movies. This latest incarnation places the burden squarely on the shoulders of Anya Taylor-Joy. With an added mark of punctuation in its title to humorously indicate a "period piece," Emma. woos Austen fans and other moviegoers alike with its mix of comedy, romance and miscommunication.
I've never read the original novel, but I've seen enough movies to know the machinations of the plot by now. This perspective allows me to focus on what this film gets right and, sadly, get bored by some of the points in between. Director Autumn de Wilde has a history with music videos and other short films, and for her and writer Eleanor Catton, their collaboration marks a shared feature film debut. Women dominate Austen's plot with men as the objects of their affection, status and financial stability, so a female-led effort may just be what was needed in 2020. Emma Woodhouse (Taylor-Joy) comes from wealth and enjoys her status in society of early 19th Century England. Emma dabbles in matchmaking other young women like Harriet Smith (Mia Goth) while seemingly oblivious to great matches for herself like the dapper Mr. Knightley (Johnny Flynn). Through the turn of seasons, Emma both interferes where she shouldn't and learns some valuable lessons about life and love.
Although the cast doesn't have a weak member among them, the women shine a little brighter. Taylor-Joy made her mark with The Witch and went on to appear in both Split and its sequel Glass as well as the 2018 dark comedy Thoroughbreds, which I highly recommend. Her expressive eyes draw you right in, and with simpler makeup of the era in Emma., de Wilde capitalized on Taylor-Joy's features. Part aloof, part brilliant and part snobby, Taylor-Joy's Emma delighted me from beginning to end. Strong actress Goth steals many scenes with her needy, emotional Harriet. Count on this appearance to lead to many offers. Flynn comes off as a kind of blonde, scruffy Hugh Grant, and I'm sure that many female moviegoers will be drawn to him. Even in smaller parts like Miranda Hart as Miss Bates and the ever-welcome Bill Nighy as Emma's father, the actors have their moments in the spotlight and keep this ensemble strong. I would always prefer more Nighy, of course.
I'm not sure if audiences have had enough of such steps back in time as Austen-based films. They certainly flocked to a different take on things with the enormously successful Clueless in 1995. Written and directed by Amy Heckerling, Alicia Silverstone made waves as Cher, a modern Emma in Beverly Hills who also guides a young lady through the challenges of dating. With Emma., no scene lacks in attention to detail to earn that period in the title. The amazing locations and sets look like pages from an interior design magazine if they had them back then. The sumptuous food and treats made me hungry for items that you can't get in a theater. The costumes stand out so much that you have to take a good glance at them before you concentrate on the actors. The ladies' beautiful spring dresses featured light colors like pinks and whites. In many ways, the production design and visuals held my interest when other elements grew tiring.
I noted that it took almost 80 minutes before feeling any real chemistry between Emma and Mr. Knightley. That's simply too long, especially because the plot involves a lot of drama and establishment of relationships before you reach that point. Just as Emma goes about her carefree days, the film wanders too long early on with dialogue-heavy scenes that might have you checking your watch. Stick with it for the payoff in the third act. I could do without those awkward, controlled dance scenes as everyone moves perfectly and observes silly customs with those who slip up becoming the target of ridicule for weeks on end. I'm certain that more waves of Austen films will ebb and flow over my lifetime. With Emma., a new generation can now embrace a solid comedy of manners infused by love that might not conquer all but certainly touches everyone.