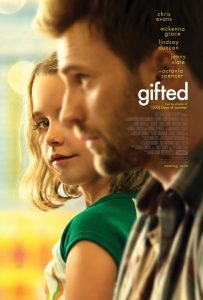 The guardian of a child prodigy fights to keep his promise to provide her a normal upbringing in Gifted.
Director Marc Webb's latest film is a classic example of paint-by-numbers filmmaking that bears little resemblance to his 2009 masterwork 500 Days of Summer. The directions go something like this:
Create an image that has the main characters facing insurmountable odds.
Slather the whole work with a broken, but eminently fixable, man's man (Chris Evans). He just needs the right woman.
Add intriguing contrast with an adorable, wisecracking little girl (Mckenna Grace).
Touch it up with some Oscar gold by adding in a dash of Octavia Spencer.
Make sure that the sharp-tongued villain is completely one-dimensional.
Frame it all with a sappy but effective score.
Gifted is a mural comprised of simple primary colors. It may be obvious and predictable, but sometimes, simple is all we need. Webb also livens up the work with just enough extras to make it stand out. The cutting, often hilarious, repartee among the cast keeps the film interesting. Grace's undeniable screen presence adds the final touch to its unmistakable allure.
This may not be a masterpiece like 500 Days of Summer, but it's a pleasing canvas with just enough charm to hold our gaze.