Without further ado, here are our selections for the best and worst films of 2017.
For a complete list of our 2017 films, please check out the Movie Review Compendium for 2017.
Rich:
What I took away most from this year was how unmemorable much of it was. The foreign film category was light. Great documentaries were sparse, and mainstream films mostly left me wanting. One oddity of the year is that it featured five or six films with the word "Wonder" in their titles even if most of them struggled to earn that use. It was also apparently the year for curious uses of John Denver tunes. The most prevalent was "Annie's Song," which popped up in at least three films — all having nothing to do with romance. This was also a solid year for diversity and women not only in our society, but in our films. In that regard alone, it's a year worth remembering. There were also a number of films that seemed to have fallen well below the attention that they very much deserved. A United Kingdom featured several exceptional performances and beautiful cinematography. The Founder did well with independent film fans, but almost no one else caught the best work of  Michael Keaton's career. Oscar Isaac starred in Star Wars: The Last Jedi, but I enjoyed him far more in The Promise. This makes three consecutive years of decline in my book. We can't keep this trend up for much longer without it having serious, permanent repercussions.
Russ:
I managed to spend a lot more time in theaters this year than last, but that's not necessarily a good thing. With all of the great films that wowed me, there were plenty that did not impress me in any way or, worse, insulted and/or angered me. We're never going to be free of superhero movies at this point. Both Marvel and DC have years of titles planned with no end in sight. For every Guardians of the Galaxy Vol. 2, there's going to be a Wonder Woman. I just wasn't sold on that movie with too much filler, and Justice League came out later in the year to prove me right about how to both empower and feature the character of Wonder Woman. There were droves of sequels, and some of them like Cars 3 simply blew it. In one of the strangest circumstances of movie titles for any year, there were Logan, Lucky and Logan Lucky. In this case, the latter was not greater than the sum of its parts. (I'll have more on that later.) I was surprised to enjoy the movie adaptation of It, my favorite Stephen King book, because it forges its own path and doesn't really adapt the source material beyond the opening scene. Creativity always wins me over, so movies like Baby Driver, Happy Death Day and The Hitman's Bodyguard both entertained me and made me tell other people to see them. I need to view more independent and foreign films in 2018, but I caught the winners like I, Tonya and Lady Bird to balance out the bigger productions.
Let's get to it. Here are our best and worst films of the year.
Rich:
My five best films (in alphabetical order):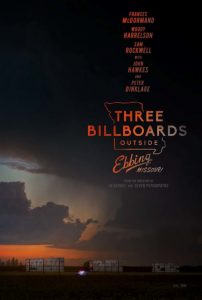 Even with less fanfare than previous years, Hollywood still managed to crank out a handful of enduring treasures. A chaotic film about a weapons deal gone wrong provided the best dialogue of the year. First-time director Jordan Peele gave us one of the most creative films of recent memory. Rebecca Hall dominated the screen and an on-screen lover and somehow didn't manage an Oscar nod. The most tense film this year was a head-to-head duel between snipers, and we found ourselves repelled by the unfathomable actions of a racist deputy and his ability to reinvent himself.
For a good portion of the year, I was sure that Free Fire would carry through to be my top pick. Then I saw Professor Marston and the Wonder Women. It's a film that I will never forget for many reasons, least among them a message of equality so pertinent to today's headlines. Thus, I was completely surprised when I saw Three Billboards Outside Ebbing, Missouri and realized that this was the best that 2017 had to offer in filmmaking. Everyone's talking about the amazing job that Sam Rockwell did, but for my money, no one could touch Woody Harrelson. He emerged from this film as one of Hollywood's best actors ever, and I'm glad to give it my top slot.
Russ:
My five best films (in alphabetical order):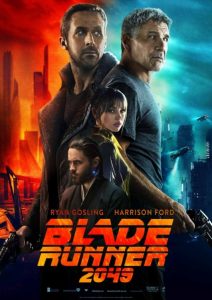 It's highly unusual for a movie to come out in February and continually surface in conversation over the rest of the year. Get Out was that movie in 2017, and I recommended it to many people just like I sent people to the theaters to see Memento years ago. The aforementioned Baby Driver, It and Happy Death Day were standouts for me, and let's not forget Wind River, either. I had two superhero flicks near the top of my list — Guardians of the Galaxy Vol. 2 and Thor: Ragnarok — but they got pushed out by others that took my highest ratings. Pirates of the Caribbean: Dead Men Tell No Tales thoroughly entertained me and made me feel like a kid again, and The Shape of Water reached across genres to impress audiences. I'm a huge fan of musicals, and The Greatest Showman came out of nowhere and blew me away with an amazing soundtrack and a story that left me smiling after I left and going back twice more to see it.
As for the best of the best, Blade Runner 2049 was my favorite of the year. From the opening moments, I felt like this was an entirely original movie set in the same universe as the original instead of a sequel. The special effects, cinematography, story (with its twists) and even the lighting are all superb, and you're certain to see the film win technical Oscars based on what they were able to pull off. A sequence in a casino showroom with holograms of famous performers turning on and off with power surges serves as one of the finest examples of the vision of the filmmakers. I saw this film multiple times both on the IMAX screens and not, and it still gave me chills each time.
Each year, we see hundreds of films. Unlike most moviegoers, most of the films that we see are required viewing. The end result is that most of the films that we see tend toward the lower end of the quality scale. That usually leaves a large pile of junk at the bottom to sift through — the worst films of the year.
Rich:
It's said that, for every action, there is an equal and opposite reaction. That may be true in physics, but it's definitely not true in Hollywood where every positive action seems to bring with it two or three negative reactions. Of course, that brings us to the worst five films that I saw this year.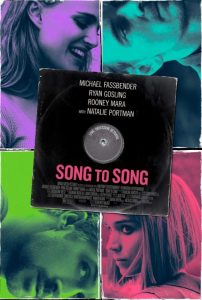 On the plus side, I can honestly say that I'd see most of these films again over almost any of the worst five of previous years. I am still shocked that a glorified two-hour YouTube video on cats managed to do so well at art house theaters. I also could talk for ages about my absolute, palpable dislike for nearly every minute of Darren Aronofsky's miscarriage better known as mother!
That said, the film that failed me the most is Song to Song. That's two years in a row as my worst film for director Terrence Malick. He continually manages to prove to me that all of the acting talent in the world can't help a truly shitty film. I struggled mightily just to stay awake through this thing, and I went into it alert and wide awake. I'm sure that anything that my tortured mind would have conjured up during a nap would have been a marked improvement over this one-note ballad of badness.
Russ:
Here's my worst list: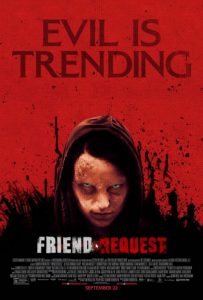 It's sometimes easier to pick the worst films of the year because just thinking about them reminds me of how bad that they made me feel while watching them. If I get bored or disgusted or roll my eyes, you can be sure that my rating will be two stars or less.  It was painful to watch my worst five much more than others that didn't impress me like mother! and Wonder Woman. I found even some of the supposed top films of the year to be tedious, especially The Post and Phantom Thread. Just Getting Started takes place in a retirement community and will not impress any of these actors' grandchildren. Logan Lucky is a completely ridiculous heist movie that never comes off as believable. Suburbicon depicts ugly racism and mixes it with a crime flick. The Dark Tower horribly tries to condense Stephen King's magnum opus's concepts into one film that introduces the world to moviegoers.
Nothing matched my worst experience in a theater this year. Friend Request tries to fit into the horror genre when it's really such a mess that the genre probably wants to unfriend it. We all know how technology is supposed to work, so when a movie gets it that wrong, I just tune out and never get back on board. Friend Request did everything wrong, and no amount of blood and guts can turn a bad experience into even an enjoyable horrific one.