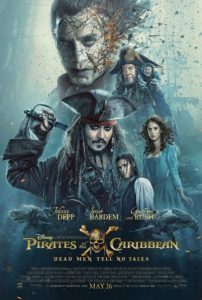 Some characters transcend the movies that try to contain them. Johnny Depp's Captain Jack Sparrow is such a character. You might not remember the plots of the Pirates of the Caribbean films, but Jack's swishy mannerisms and cocky attitude are permanently etched into your memory. As the series continued, I yearned for a story that was worthy of the iconic lead character. This latest (but not last) movie satisfied my cravings for the pirate's life. Taking its subtitle from a famous line uttered on the ride that inspired the series, Pirates of the Caribbean: Dead Men Tell No Tales is the perfect summer movie that leaves you in awe and thirsty for more.
Perhaps it's new blood that was needed to revive the series before its reported finale in the next installment. Directors Joachim Rønning and Espen Sandberg previously helmed 2013's Kon-Tiki, and writer Jeff Nathanson also penned Rush Hour 2, Rush Hour 3 and Catch Me If You Can. They create movie magic with two equally important plots interwoven with action scenes and sequences that keep you enthralled. There is one stunt early in the movie that features something so outrageous that I have never seen it before in a movie; you'll know it when it happens.
After a prologue that's as exciting as anything that follows, we learn about the dead Captain Salazar (Javier Bardem literally oozing villainy) and his thirst for vengeance against all pirates and Jack in particular. Two young people are on quests connected to their fathers. Henry (Brenton Thwaites) wants to break the curse that binds his father to a ghost ship, while Carina Smyth (Kaya Scodelario) needs to validate the life's work of her father that's contained in a diary that he left for her. Both quests lead to the Trident of Poseidon and the power that it contains, and Jack is essential to their journeys while avoiding Salazar and the Royal Navy. Captain Hector Barbossa (Geoffrey Rush) joins the fun and just wants to keep his head. Thwaites and Scodelario are impressive in their own right amidst the strong, familiar cast from the earlier movies. Depp could probably literally perform as Jack in his sleep, so it's refreshing to see him put such energy into this role from his hilarious entrance to the heroic finale. Although their roles are small but constant, it couldn't be a complete film without Gibbs (Kevin McNally), Scrum (Stephen Graham) and Marty (Martin Klebba) all on the same crew once again.
This adventure is a feast for the eyes and ears. Special effects are expected in a movie like this one, so it was a challenge to take them to the next level. The filmmakers and effects artists did exactly that with Salazar's crew in various stages of decay as their bodies reflect the ways that the pirates died. It's one thing to have Salazar's hair flowing like he's underwater, but it's another for half-pirates and partial corpses to join him in the ultimate criminal lineup. The dead pirates are just one aspect of the impressive visuals along with the scenery, ship battles and Salazar's ship that has a unique method of attack. You have to appreciate the production design as well, especially Barbossa's elaborate ship with skulls incorporated throughout. The rousing score and familiar themes from Geoff Zanelli complement all of the action on screen and somehow make it better; I'll certainly buy this soundtrack.
If all of the battles, action, pirates and comedy weren't enough, there are some surprises in the plot. The filmmakers even manage to throw in a little about Jack's past for those who crave knowing as much as they can about this character. Sure, there are some unexpected cameos, but I don't spoil such things as other sources will likely do. With the search for a historically and magically significant object, some sequences would feel at home in an Indiana Jones film. Although I give this my highest rating, there's just one wish that I have for the next movie – more monkey!