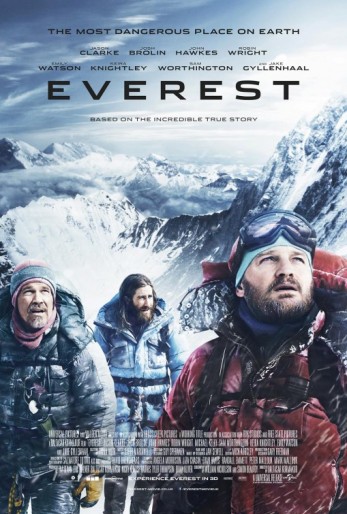 In the early days of IMAX, you had to go to a science museum or other specialized installation to see the large-format films. Many of these presentations were made inside domes or other structures rather than on traditional movie screens. Over two decades later, most major theaters have an IMAX screen. The early draws were nature films and other experiences that put you in the middle of the action. The most memorable of the early IMAX films for me was 1998's Everest. It documented the journey to the top of Mount Everest by one team in 1996, which was pretty incredible in that year given the size of the IMAX cameras. In 2015, we now have a new movie called Everest that follows another group of climbers in 1996 during the most infamous tragedy on the mountain prior to 2014. Although the 1998 film concentrated on the majestic sights along the journey for the new format, this modern Everest instead focuses on the people involved in the climb and the heartbreaking drama that unfolds with each bad decision.
Icelandic director Baltasar Kormákur (director of 2 Guns and Contraband) joins writers William Nicholson and Simon Beaufoy for a project that highlights their strengths. Kormákur has experience with action films as well as dramas, so Everest is perfect for his filmmaking talents. Nicholson cowrote Gladiator, Elizabeth: The Golden Age and Les Misérables and wrote Mandela: Long Walk to Freedom, so his experience with historical set pieces allows him to easily step back in time to 1996. Beaufoy wrote Slumdog Millionaire and cowrote 127 Hours for director Danny Boyle, and he also adapted Salmon Fishing in the Yemen. He's pulling from various accounts of the 1996 climb, which is exactly what's necessary to put together a complete picture of the personalities involved and the facts as agreed upon by those who were there.
Everest smartly doesn't begin with the climb itself. Instead, the film profiles the various climbers who are all gathering in Nepal in the spring of 1996. Rob Hall (Jason Clarke) is a guide for Adventure Consultants, a company that takes climbers up Mount Everest. Scott Fischer (Jake Gyllenhaal) is a guide for a competing company, and Hall and Fischer discover that their groups are both planning to be on the mountain at the same time. Hall's clients include experienced climber Beck Weathers (Josh Brolin); mail carrier Doug Hansen (John Hawkes), who's out to redeem himself after a previous failed summit attempt; and Yasuko Namba (Naoko Mori), a climber who needs to conquer Everest to complete her ascents of the world's seven tallest peaks. Other than Namba, the women in Everest have supporting roles just like their characters. Hall's wife Jan Arnold (Keira Knightley) is pregnant and worrying about him from home. Peach Weathers (Robin Wright) is not too happy with Beck after she finds out about his expedition. Helen Wilton (Emily Watson) runs the base camp and stays in touch with both the climbers and their family members. Everest carefully balances the expected scenes on the mountain in the midst of the adventure with the drama at base camp and back home with worried friends and loved ones.
Although the ensemble cast is quite convincing, the standout stars are Clarke, Brolin and Hawkes. These actors create fully realized characters with strengths and weaknesses that lead to their eventual fates after this terrible expedition. Even if you know what happened from past films and written works, the filmmakers deliver a compelling experience that takes me as close as I ever want to go to the actual mountain. Bolin chews up the scenery as a gruff Texan, but he shows his range as Weathers faces his fears and vulnerabilities on the mountain. Hawkes makes you feel at ease as you watch his work, and it's hard not to root for him throughout the entire movie. Clarke has a wide variety of roles in both television shows and movies, and he's so much better here as a hero than as the villain in Terminator Genisys. The ladies make the most of their roles. Watson always keeps my attention with her understated, natural acting, and she's good here even if she resorts to blubbering on occasion like Knightley. People might expect to see a lot of Gyllenhaal in Everest, and I don't mean the scene of him sitting at base camp dressed like he's at a swimming pool. The film simply doesn't focus on Fischer or his group as much as Hall, although Gyllenhaal does get more screen time later in the film.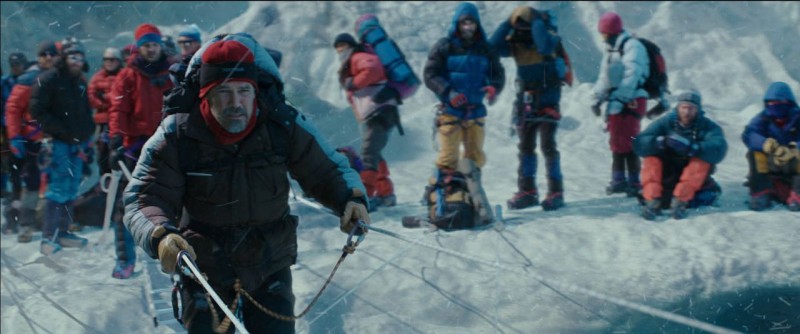 A movie like Everest is only as successful as the climbing scenes, and I felt like I was with the climbers every step of the way. The film combines scenes actually shot on and around Mount Everest with outdoor scenes on other mountains and studio work for some of the more harrowing scenes. You wouldn't want to be in a blizzard on an actual mountain, so the filmmakers had to re-create that turmoil as much as possible. The results are believable and will keep you on the edge of your seat. The efficient special effects work hand in hand with the actual locations for a seamless mixture of make-believe and realism with a dividing line that you can't discern. One of the most dangerous parts of the climb up Mount Everest that I remember from the 1998 Everest is the crossing of an icefall with ladders and ropes. Kormákur delivers a wonderfully dizzying scene in which Weathers has to make it across a rickety bridge made from ladders. Try not to look down!
Everest is not without its problems, both in its development and in the plot. Sadly, avalanches claimed 16 lives in 2014 around the same time that this movie was being made and even more people a year later — both surpassing the casualties of the greatest tragedy to date as depicted here. Although the climbing scenes feel real and dangerous, I was taken out of the film by characters using satellite phones and walkie-talkies with ease as if they were on a cell phone at ground level. I don't buy that the reception is that good in the middle of a storm on the world's tallest peak. That's a minor complaint. Although released in IMAX formats, the movie should play just as well on regular screens because the landscapes fill the frame. I found Everest to be equal parts exhilarating, heartbreaking and inspiring as an adventure film that exemplifies the heights of human endurance.